This September, our annual (un)remote retreat took place in Mielno, a unique, coastal town with access to sea and lake. As we arrived at the dawn of the summer, it became significantly less crowded and much more tranquil. Against all the odds, the weather was remarkably warm and sunny, which forecasted all the exciting things we were about to experience.
Interestingly, despite being located so uniquely, this location's potential remains mostly untapped. Almost as if the time there was frozen in the late '90s. It was particularly interesting because the venue we chose was indeed a hidden gem in the area – houseboats floating on the Jamno lake.
The houses were simply amazing. Aside from elegant design and breath-taking sunrise views, some of them were equipped with saunas, hydromassage baths, hammocks, massage seats… and private motorboats to make everything more epic.
The Dune
We kicked off this year's get-together with a lavish meal in one of the best local restaurants – Dune. Besides treating ourselves to great meals, it was an excellent opportunity to take a deep breath, enjoy the conversation and relax after a long trip. Mainly, because we arrived from all over Poland and Europe, and for some, it had already been a 13h trip.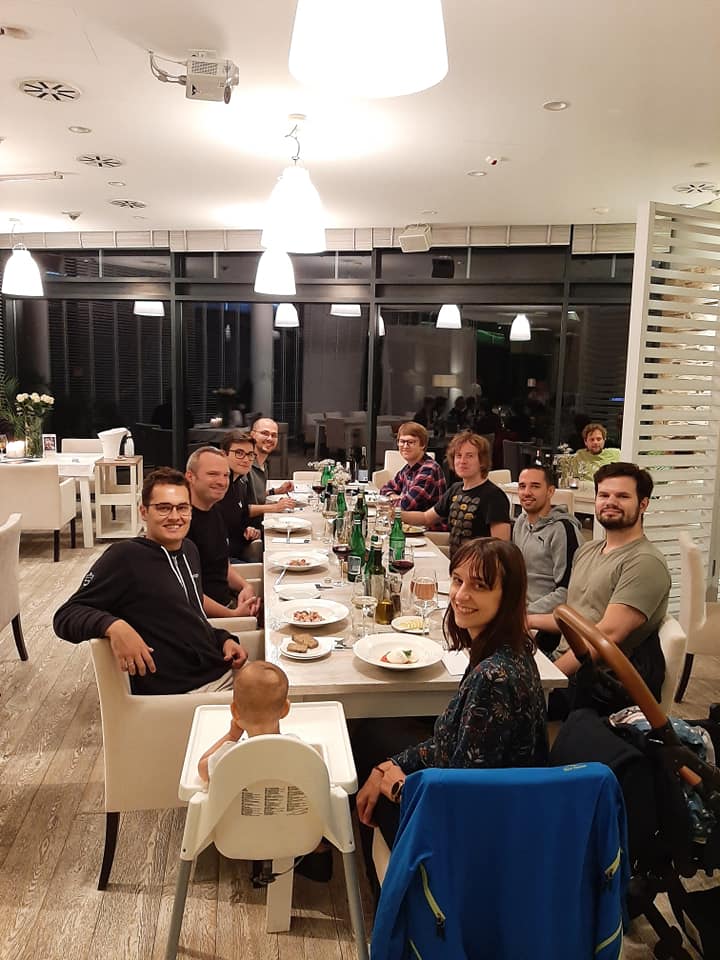 Exploring the local folklore
We spent a significant amount of Sunday on a bike trip to the beach in Gąski. Most of the route leads through peaceful forest and nearby villages, with last tourists wandering. In the Gąski itself, we met a bard singing sea shanties in the most imaginable rumbling voice.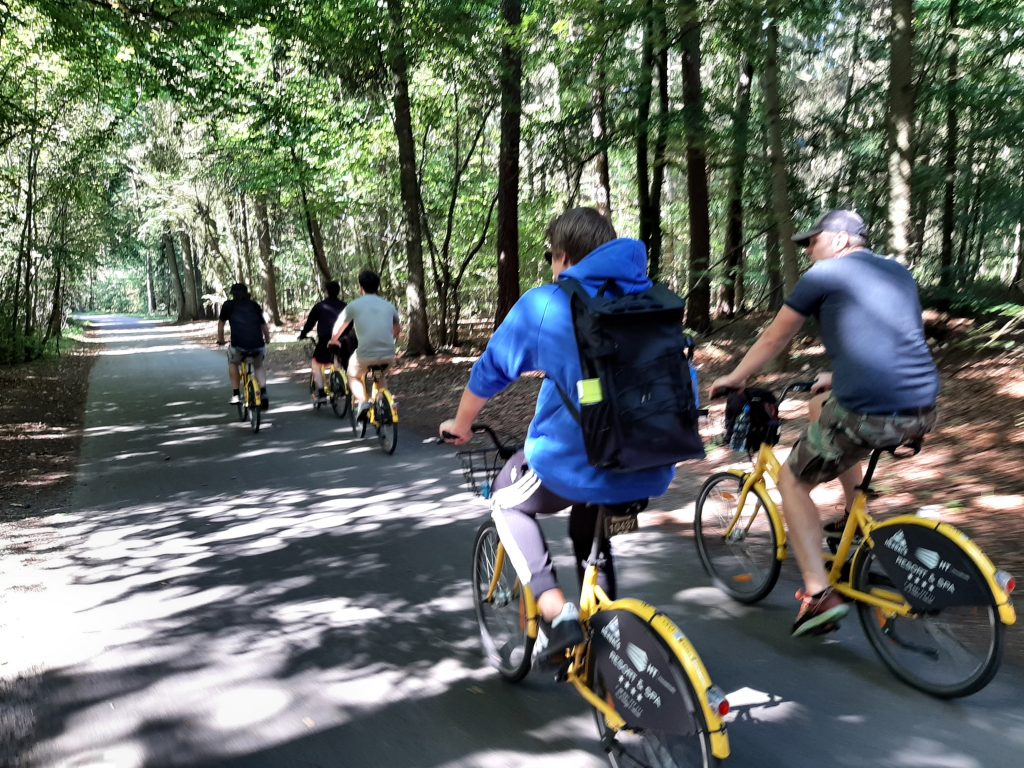 Some of us were used to scorching sand and bays with gentle breezes. This wasn't that type of experience. The Baltic sea was frosty, the wind was constantly howling, and the ground was rather cold. However, it was all still overwhelmingly beautiful and peaceful – in its most basic, pure way.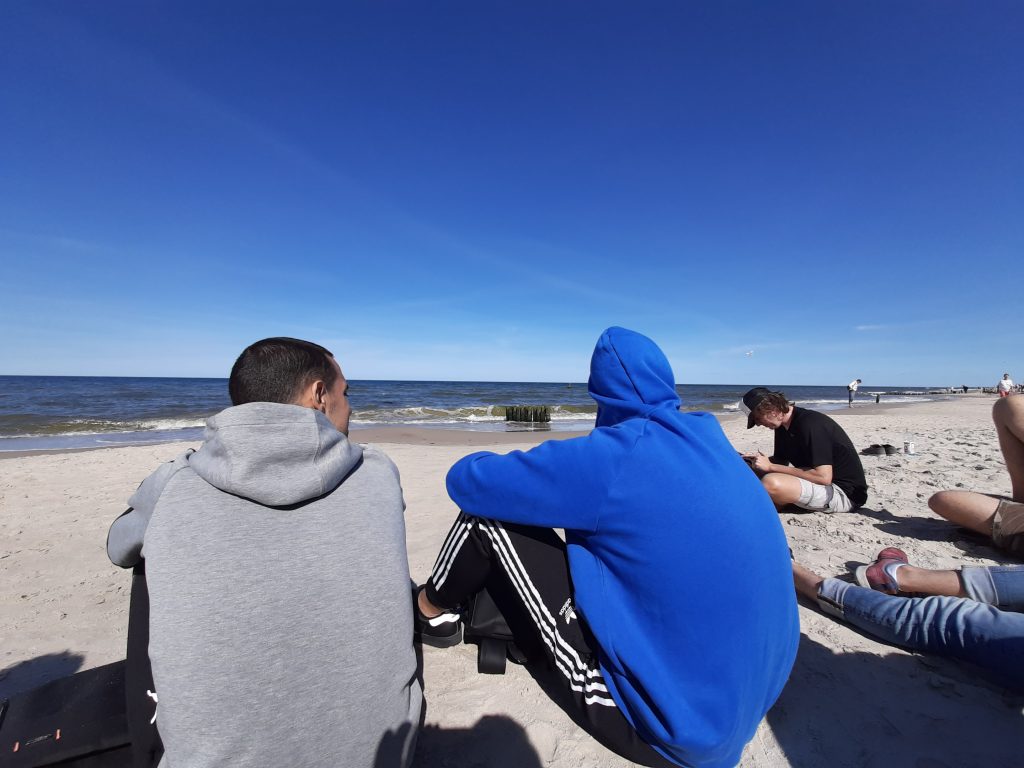 On the way back, we stopped for dinner at some inconspicuously looking booth, which turned out to be serving high-quality Italian-style pizzas and wine.
Soothing sunsets, lake trips, and adrenaline rush
Given we had permanent access to motorboats, many of us decided to spend almost every free moment before dawn on them.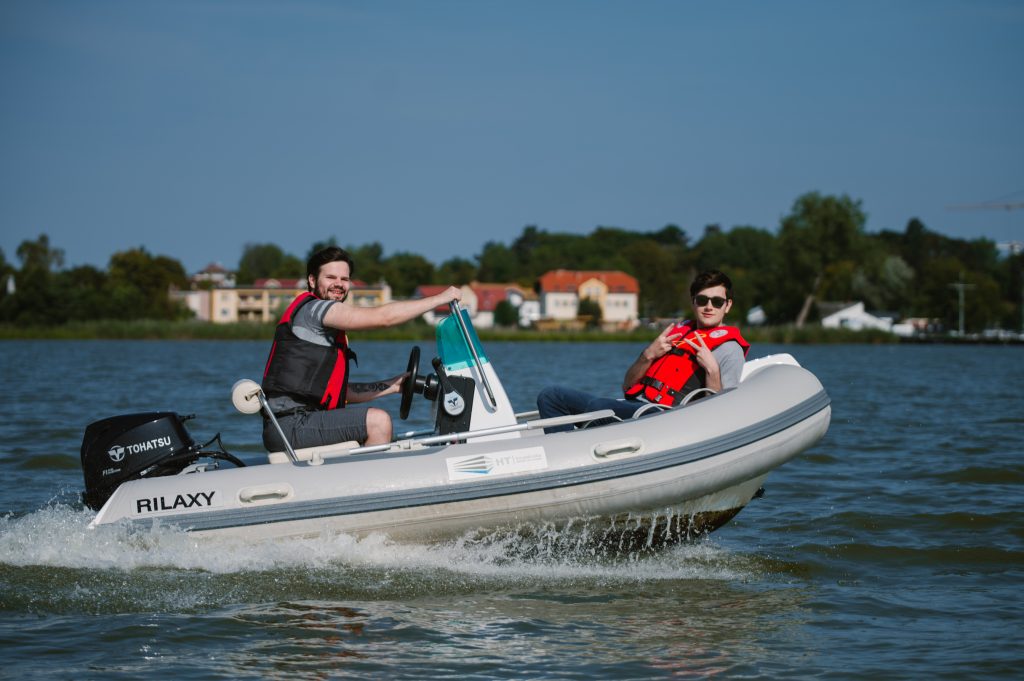 We've managed to sail through the whole lake and explore multiple piers. The rides were packed with unexpected events. Some of us ran out of fuel a couple of times and had to improvise rowing – special greetings to Mateusz and Michał. Even a lack of fuel couldn't stop them! 🙂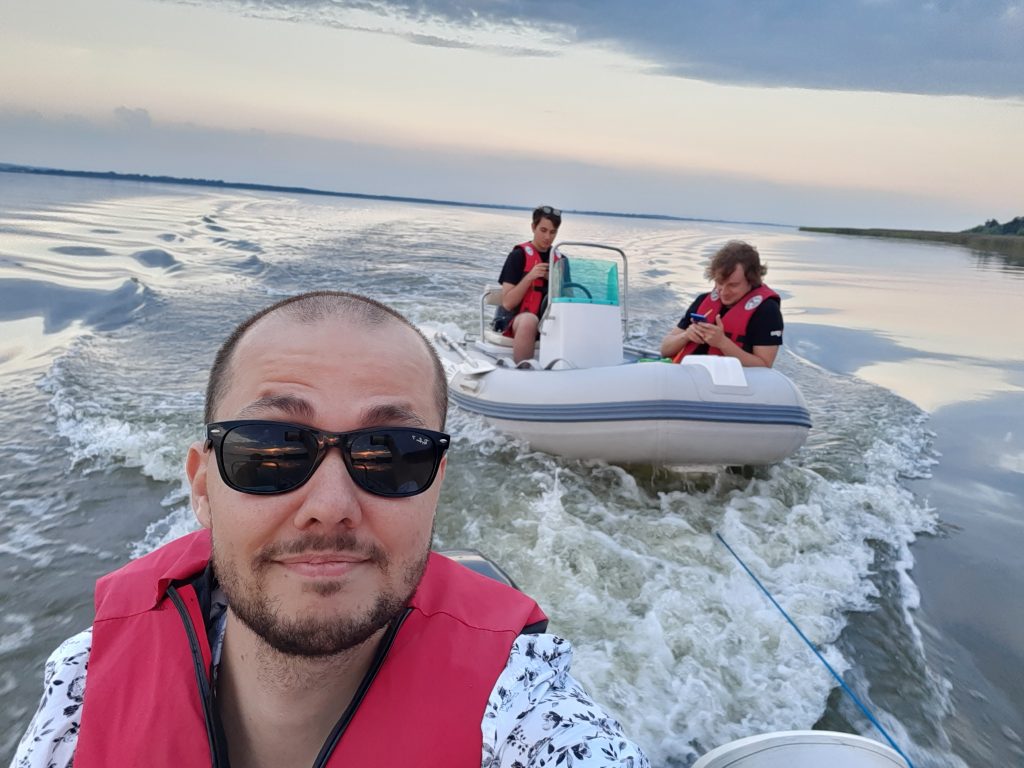 However, our appetite for speed was unsatisfied, and we tried riding scooters. The insane speed and low mass made it extremely sensitive and challenging to steer while going against the waves. Body balance was the key to success. If you are wondering how does it feel to ride a hippogryph, it's the closest experience you can get 😊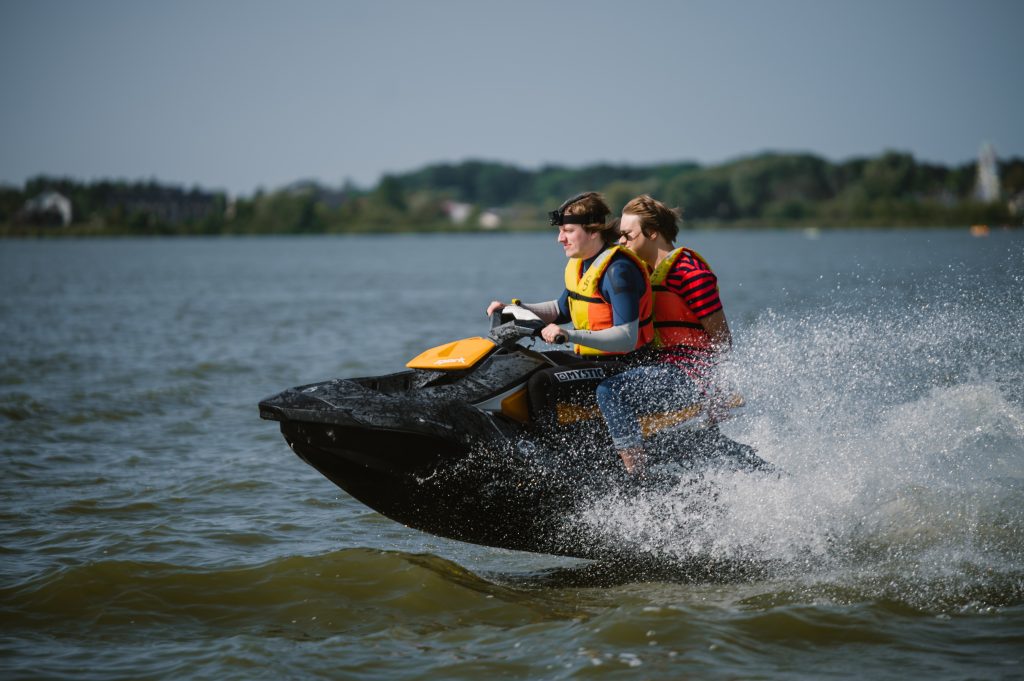 While waiting for lunch, we played various sports on the nearby pitch. We had access to courts, football pitch, basketball hoop, and billiard table. Everyone was satisfied: Jakub Rożek had the opportunity to show off his table tennis skills, Domagoj taught us how to play tennis. Mateusz and Karol pushed their endurance to the extreme playing basketball!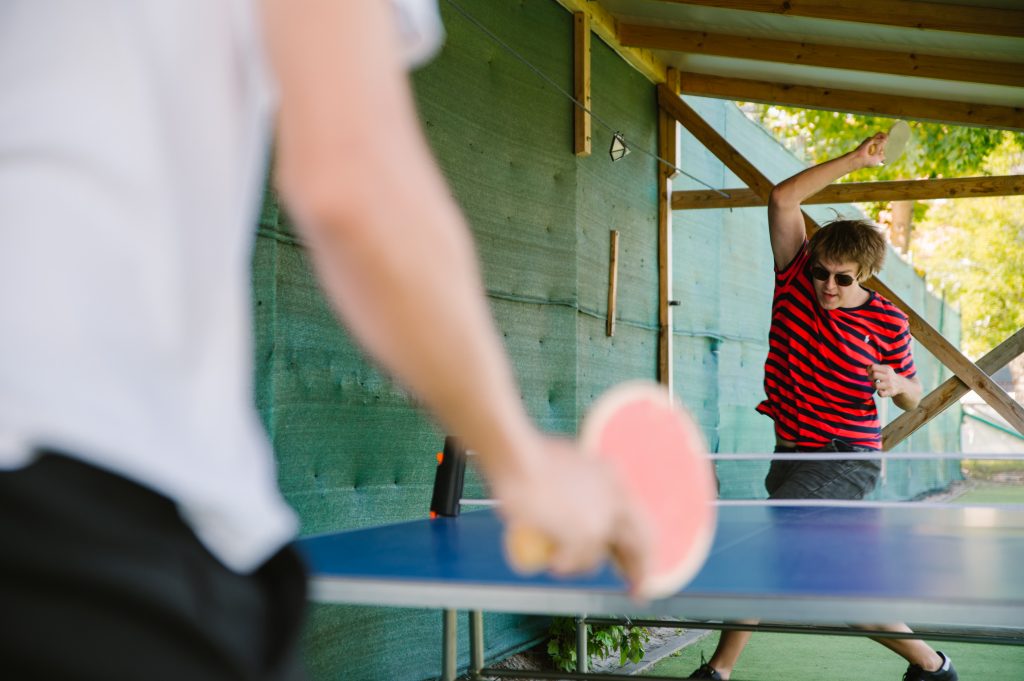 Those weren't all sports activities, though. To make our hearts go crazy from the adrenaline, we organized a paintball match in a nearby forest. Two teams rivaled against each other in multiple rounds and scenarios: from traditional deathmatch, capture the flag, and battle royale, with no teams and everyone going against each other. It was definitely way more running, hiding, and crouching than we have during our average day 🙂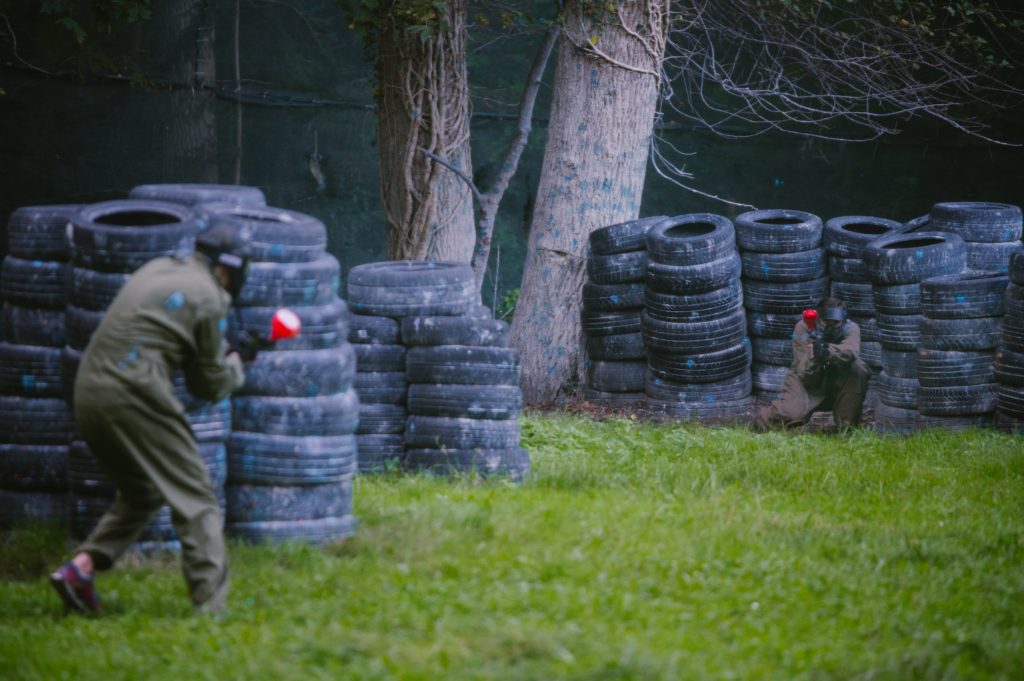 After the excruciating game, we spent the rest of the evening at a bonfire and grill – chatting about life, learning about each other, telling stories, and blending in with the dusk illuminated by the warm glow of the fire.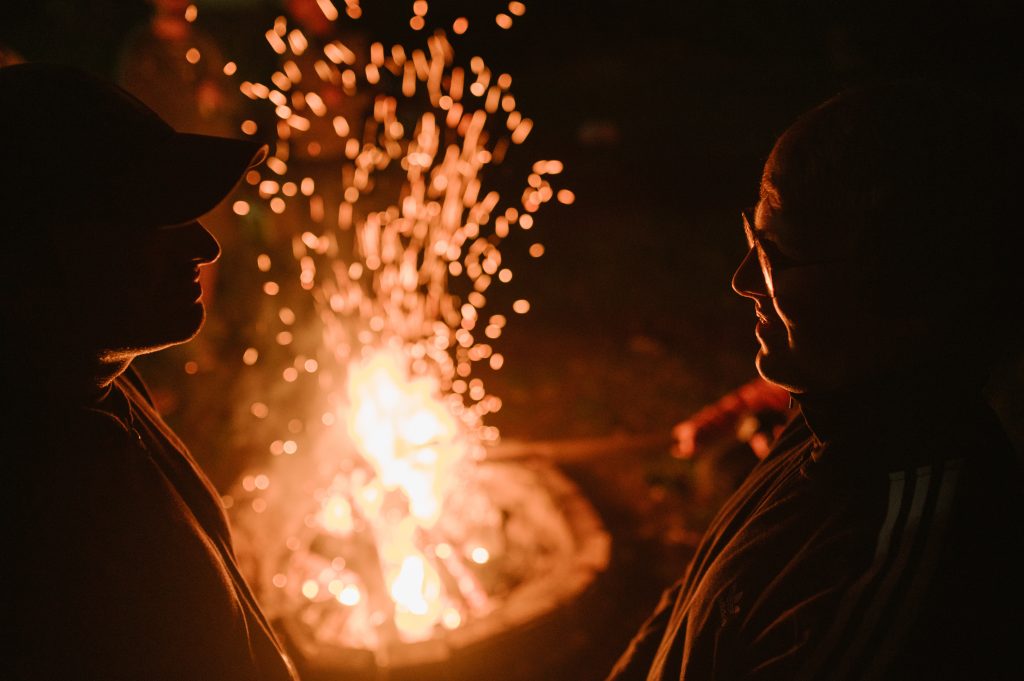 Team cooking
Nothing brings people closer better than cooking together and enjoying a meal made with your bare hands.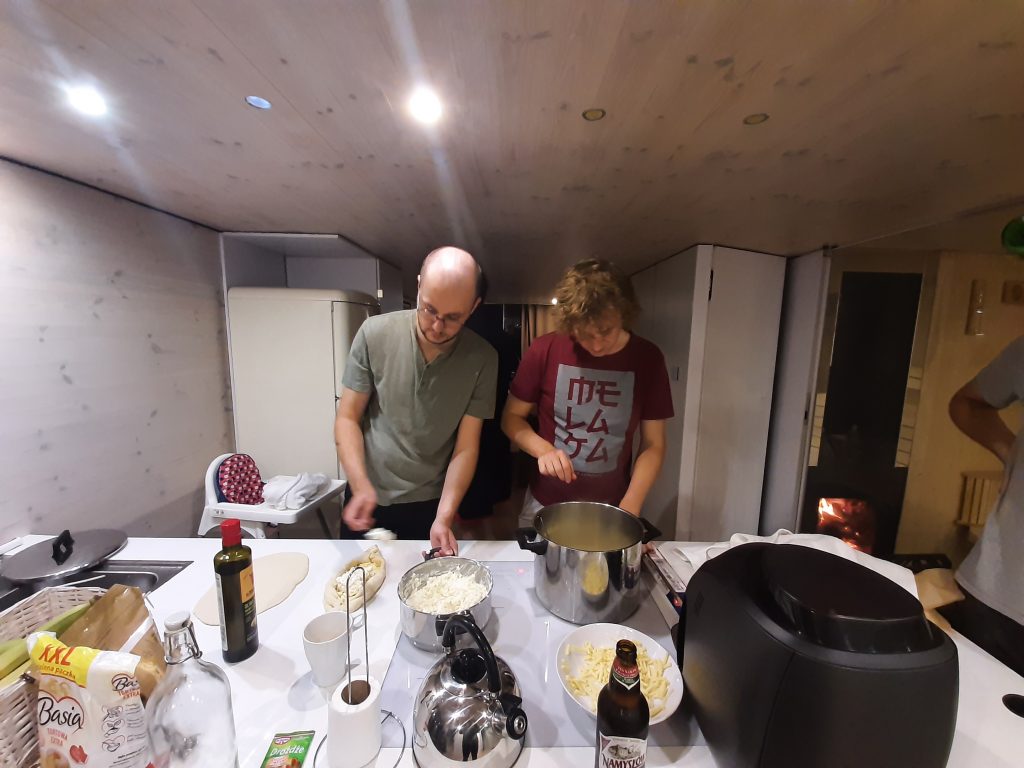 One evening, Michał took the lead and prepared delicious khachapuri, a traditional Georgian dish – cheese-filled bread with eggs and butter. It required a lot of effort and teamwork to make. Firstly, an extensive search for ingredients (and their creative replacements). Secondly, we didn't have much of the needed equipment. The roller was substituted by the olive oil bottle and a grater by generous, divide-and-conquer knife cuts. Thirdly, the process, from making dough to baking in the oven, took over 3 hours.
The taste and experience of cooking together were all worth it, though!
That meal, accompanied by Jakub's Korean Samyang noodles, one of his favorite dishes he discovered in Asia, made the day. Admittedly, it was one of the spiciest foods most of us ever tasted. Nevertheless, it was an incredible experience and a tasty meal.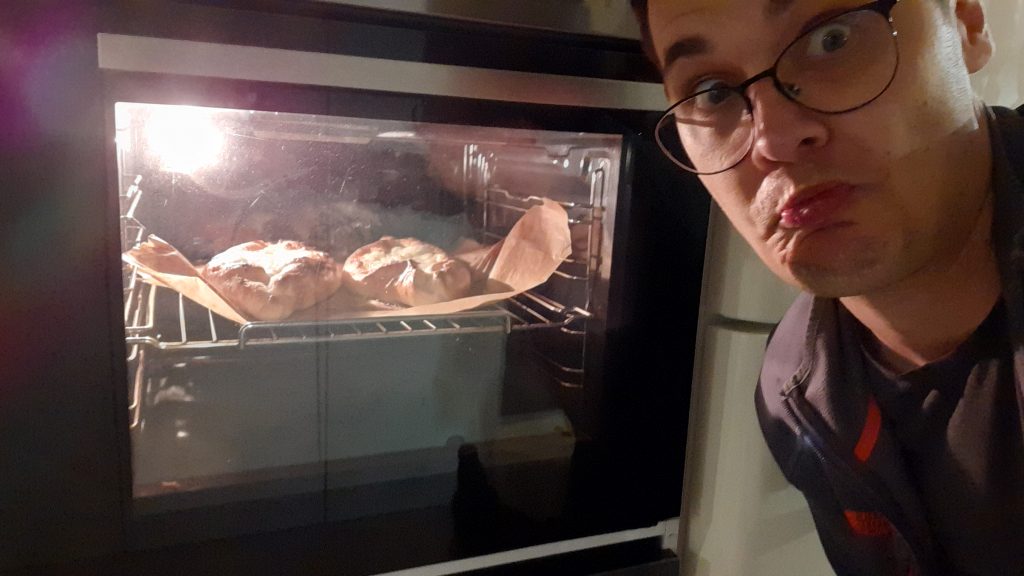 We stayed up till 2AM that day, extending the great atmosphere – created by the taste of international cuisine – to a board gaming night. Playing Catan, a strategic game where you compete for resources, became our favorite late-night activity (besides chilling on a roof terrace and enjoying the last days of summer).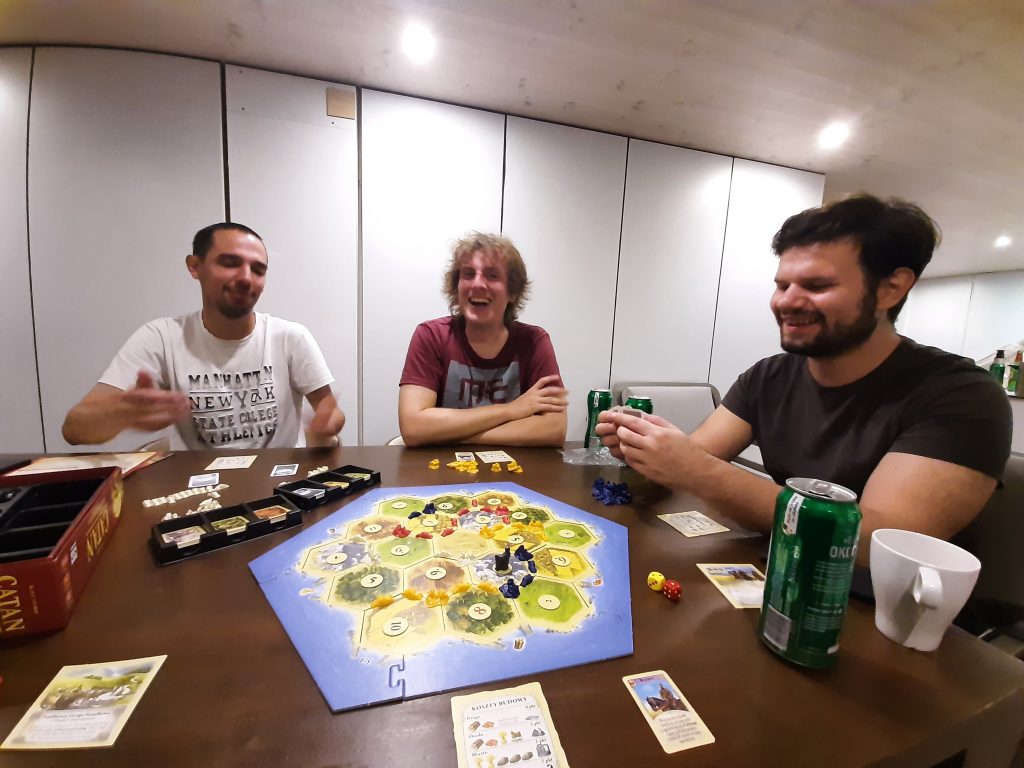 Smashing code and sharing knowledge on Ignite Talks
Not entirely sure how, but we've somehow managed to squeeze in some work in between all those events. Coding on hammocks, a massaging chair, a terrace, or a sauna? We've tried it all!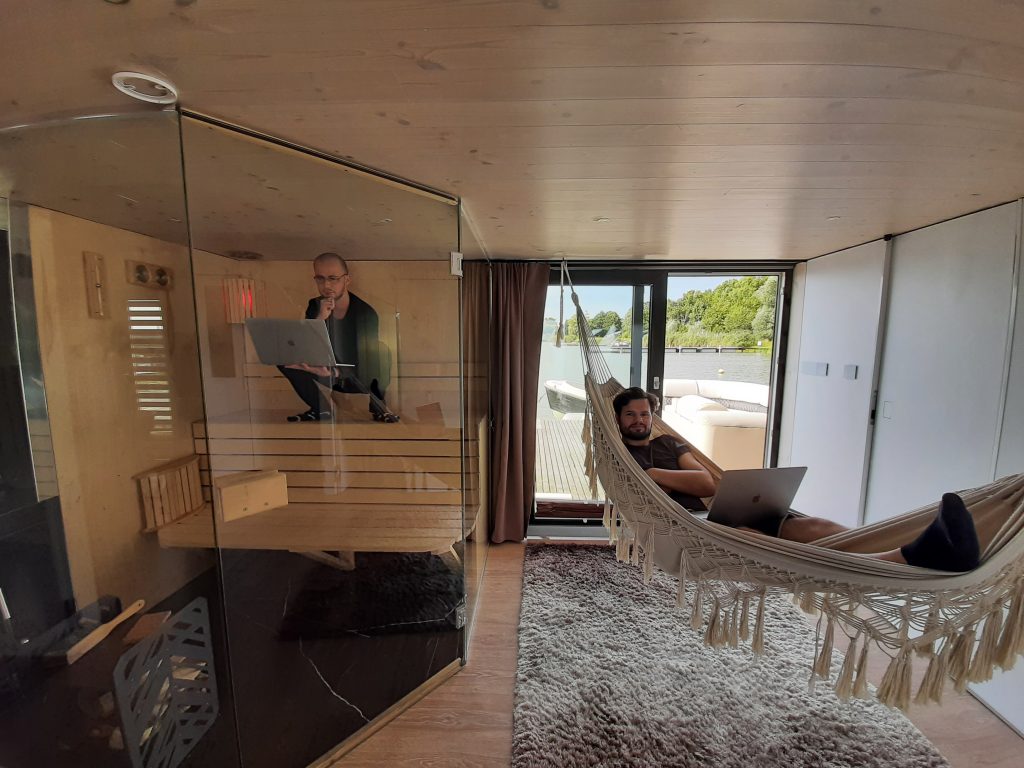 It's now almost a tradition that we reserve one of the evenings for, what we call, Ignite Talks – a series of short (10-15 minute) talks on any subject someone feels passionate about. This time we've covered all sorts of topics: Haskell vs. TypeScript, validating incoming API data, NFTs, managing time zone differences, yarn dependencies, building real-time collaboration tools, and structuring arguments logically.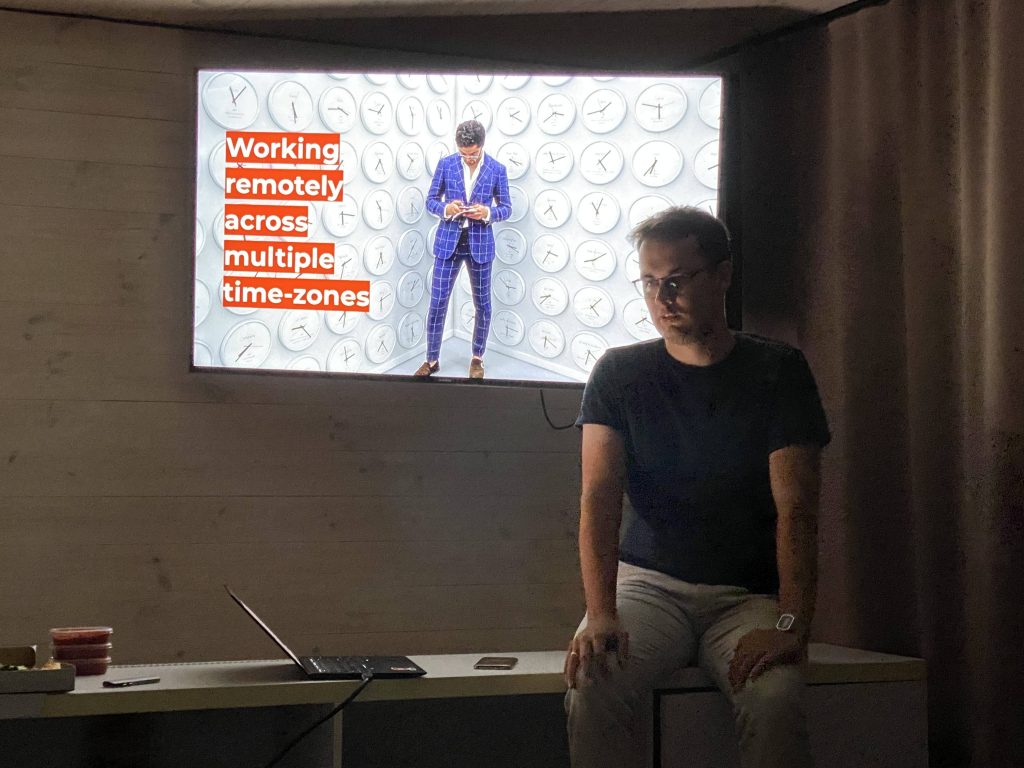 All that topped with a classic set of pizzas and beverages 🙂 The talks were inspiring and educational. We've learned about 1000% profits of NFT collectibles and metaverses, why yarn.lock plays tricks sometimes, how to win a debate, and other great insights.
A finale with a touch of music
For the last day, the resort prepared a farewell bonfire and invited a guitar player who took us for a musical time travel between 60" and present. Surprisingly to some, Mateusz Podlasin and Michał Miąskowski borrowed his guitar for a moment and amazed us all with their skills.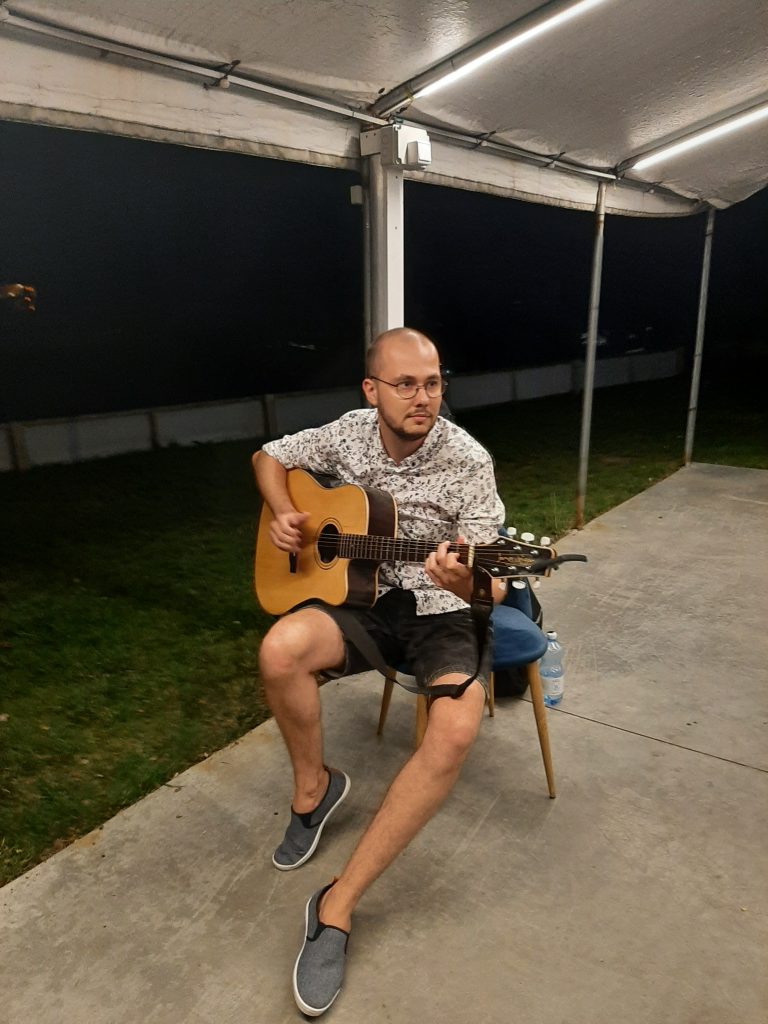 With lots of meat, veggies, marshmallows, grilled bread, and the last round of Catan, it was the perfect closing of our 2021 (un)remote retreat.
See you soon!
It's incredible that we could connect so easily even though we are usually separated by hundreds and thousands of kilometers. It all felt like an event organized by a bunch of good old friends rather than a work retreat.
For a small, no-office company like ours, such an event is always a big thing in terms of getting everything ready and a very important message to share with our employees: nothing is more important to us than you.
As we continue to grow as a team, individuals and company, we plan to do more of those events and things beyond. All that to deserve for a bold statement: we want to be the best remote company to work for in the world.
And if you want to be a part of this exceptional team, join us! Check our careers page and social media for updates about jobs and other news.