Exploring the world is exciting but finding the right spot to do remote work can be challenging!
Overcrowded, noisy, or damp places?
Uncomfortable seats?
No (or dodgy) internet, no food, no desk, no water?
Is a goat trying to eat your laptop?
No air conditioning, and melting hot temperatures outside?
We hear you! We've been there too!
In this article, a group of remote work veterans will share their top tips on finding the best spot for your next outside-the-office workday.
We've worked practically everywhere: middle of a desert, passenger seat driving through the countryside, chain stores in Asia, sandy beaches, coffee shops, coworking spaces, jungle, parks, city centers.
Want to know what works and what doesn't?
Then carry on, have fun reading, and observe how our suggestions contradict sometimes 🙂
That's what remote work is! It's a unique experience that eventually you will have to discover yourself!
Jakub Rożek & South-East Asia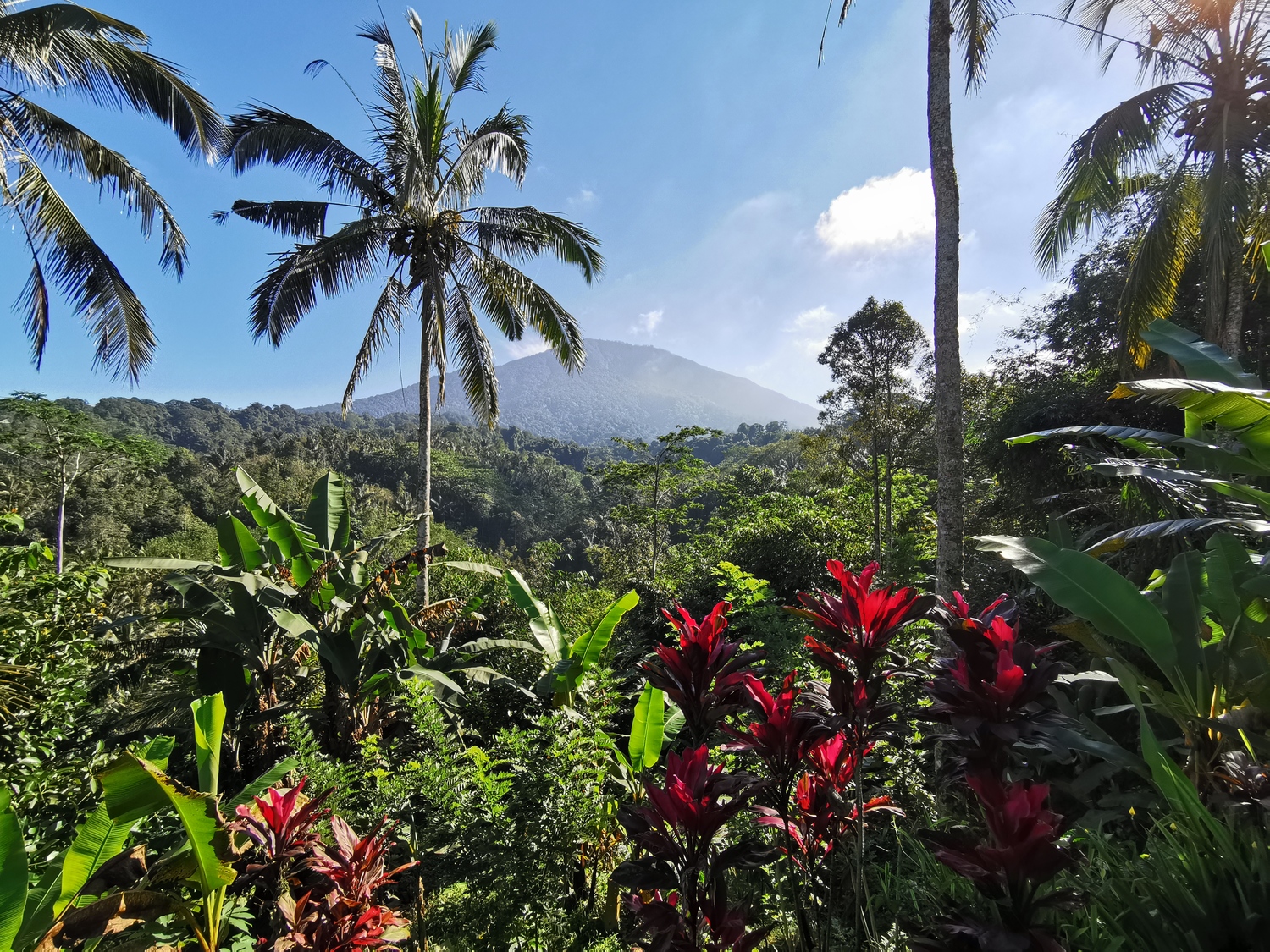 Some engineers are very picky when it comes to the space they would choose for work.
I, personally, certainly fall under that category as I prefer to avoid fancy places with plenty of amenities I won't ever need.
Moreover, I tend to travel a bit more than the average human being. Therefore, I know firsthand that it's not trivial to find an excellent spot to spend time at.
Importantly, I very rarely work in a "single-block." I mostly split my coding time into 3-5 smaller chunks.
Here is my curated list of hints for folks who prefer unobvious working spots, travel Asia a lot, and often switch places.
Don't forget about these before you get on a plane
If it's your first-ever trip to SE Asia, make sure to:
Have a decent VPN provider: Internet censorship is ubiquitous. Therefore you should obtain proper access beforehand.
Briefly evaluate mobile carriers' offers and coverage: so that you know which SIM card to buy and where/how you can get them. The basic understanding of prices will help you avoid a rip-off. Oh, and do bear in mind that most countries require each card to be registered. Hence, bringing your passport along is needed.
Review your laptop stickers: some might be considered controversial in the country you are heading. For example, a Buddha sticker in Thailand, anti-communist in Vietnam, etc.
I've never experienced anything bad related to having an inappropriate sticker. Larger cities are typically more liberal, but you should still respect the culture.
Note that there is no need to buy extra power banks, chargers, cables, and similar. There is plenty of places where you can buy them.
If something breaks, you can just go and buy it.
The pricing should be equal or lower than in Europe, thus if something looks suspiciously expensive, make sure to negotiate the price.
Otherwise, you'll need to pay the "tourist tax" 😉
I usually prefer large stores as they have prices stated, and there is no need to bargain.
However, it's not always possible to find such if you are far away from big municipalities. The small vendor store is the best you can find in such cases.
The more you move, the more you discover
Based on my activities, I usually seek for places that do not have any entry fee,
since I never plan to spend more than an hour or two, and I plan to visit a few other places on the same day.
That's why I primarily consider cafes, stores when in SE Asia (7eleven, Mini Big C Alfamart/Indomaret in Indonesia are ubiquitous and all equipped in chairs and tables), or a bench by the river.
Cafes, crowds, and hotpots
Before choosing a particular cafe or restaurant, I review its score in Google and check how busy it is to make sure it's not overcrowded. I also make sure the location is not too cramped and offers decent food and beverages.
Internet connection is less of a concern since hotspots are usually not good enough, and I use my mobile data regardless of the country I'm in. I always buy a local sim card anyway, so that I have plenty of data to spare.
Here is why you should avoid coffee chains in popular places
Unfortunately, popular chain cafes and restaurants usually are very busy almost at all times.
Moreover, they are usually quite loud, which might trouble if your position or company requires you to attend many meetings.
Usually, you can't do much about it – everything you can do is to either find a cafe that does not belong to a chain (the chances are that they serve better coffee too :)!).
On the other hand, if you don't feel "brave" enough, and want to try something you know best, you can simply try to find a cafe in less popular areas where tourists don't go.
Here is a cafe I worked in Tabanan, Bali, Indonesia.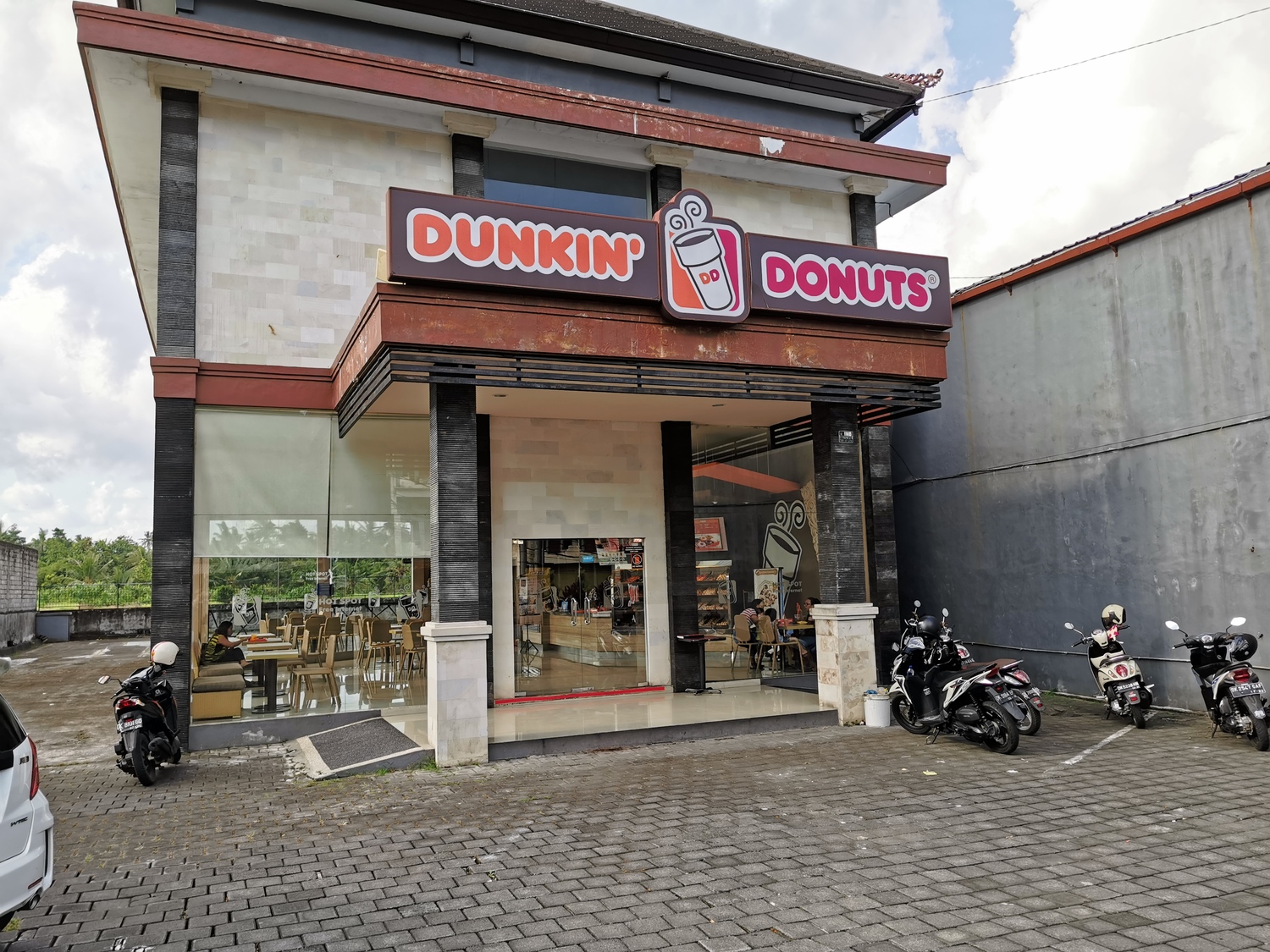 Although cafes like this one tend to be crowded in main municipality areas,
locations in a rural area might be less so.
This one was always almost empty, and I had plenty of seats to choose from.
One hint on Lunch & Work
The local restaurants are your best bets when it comes to food and work.
Here is a photo I captured while working and waiting for my dish to be delivered.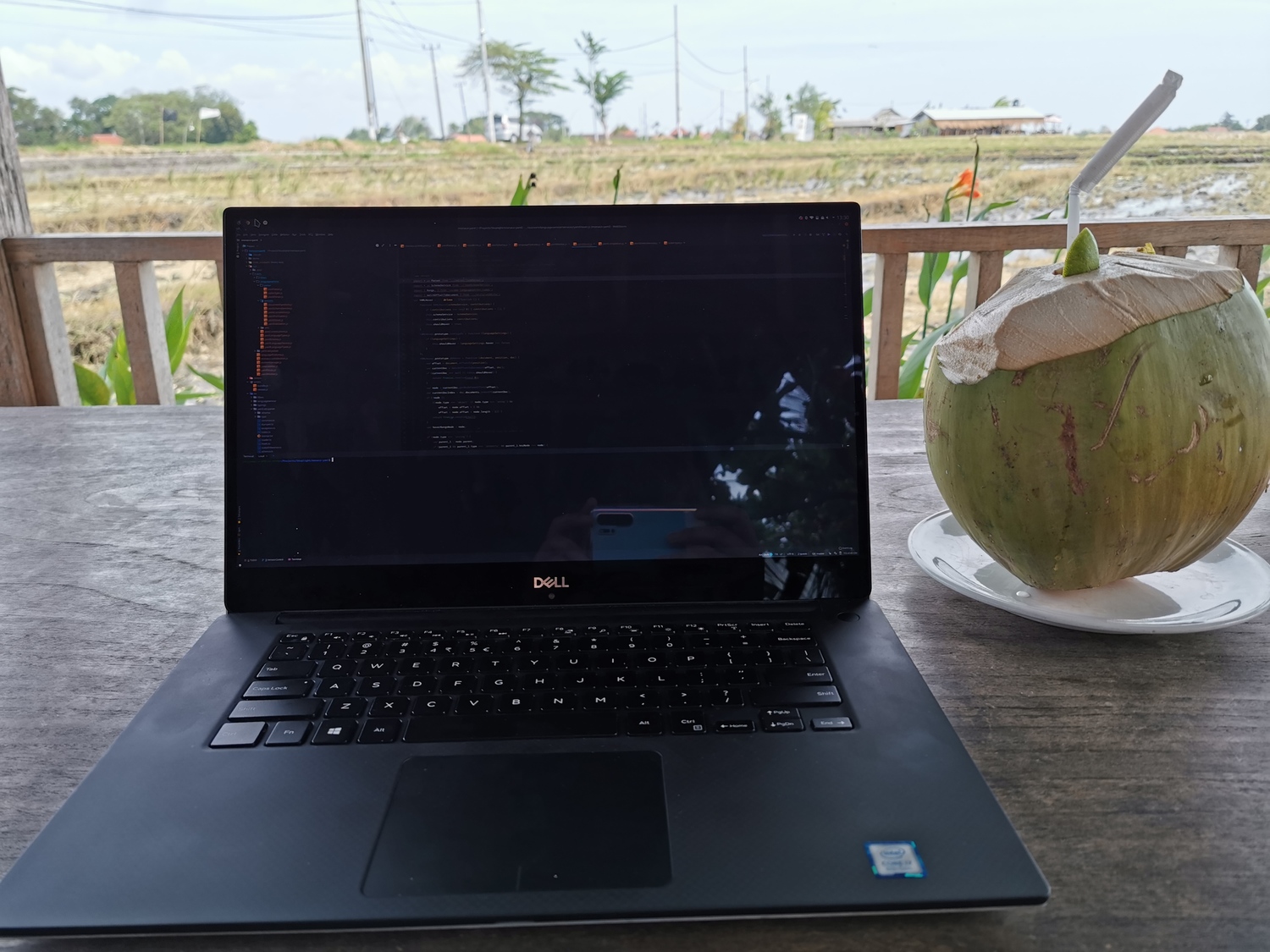 Having that said, there are things you need to watch out for. Lack of AC or power outlet might ruin your experience.
I suggest you carry a large, say 65Wh, power bank, to make sure power is not something you need to be worried about.
Moreover, extended power outages aren't uncommon in 3rd world countries; therefore, power bank might be useful for you regardless of the location.
Try out convenience stores
Another decent choice, mainly if you ride a scooter a lot, is a regular convenience store.
Unlike stores in Europe, stores in SE Asia usually come with lots of excellent amenities, such as ATMs, weight (if you eat a lot and need to stay in shape :P), toilet, and what's most important, chairs and tables.
Believe me, there is nothing better than stopping by, grabbing a cold Krating Daeng, 100plus or Pocari Sweat, and then coding.
You do need to watch out for sun, as certain spots don't provide share, and it's better to avoid these.
Check out tourist attractions
One of the other exciting alternatives are… tourist attractions! Some of them come with small street vendors, and there is usually a very decent spot to sit on.
You can have a genuinely great experience sitting in outstanding scenery. However, the beaches are slightly less preferable in my case, as they get overcrowded and noisy.
Therefore, I'd suggest verifying how the situation looks like before planning the day.
Jakub Jankowski & The World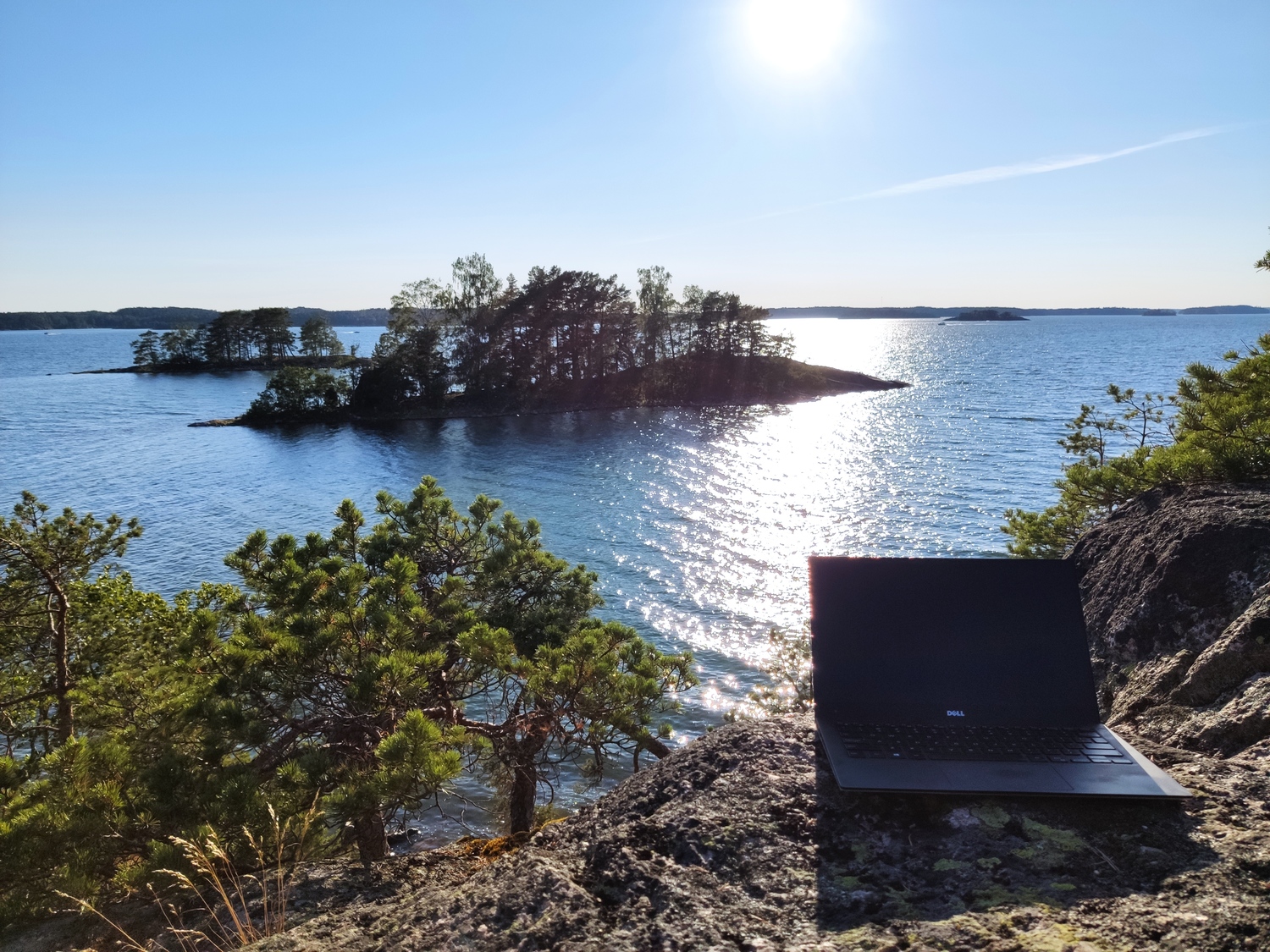 The comfort of coworking spaces
Each average and bigger town already has at least one spot like that. It "grows" everywhere.
It costs – true, but it gives perfect conditions when you need them.
I sometimes find myself in situations when I'm arriving at a place early in the morning. I can't check in yet to my hotel or Airbnb, and I have a big backpack or even a bicycle with a couple of sacks.
Finding a cafe, then switching it to another one, doesn't seem like a good idea.
I want a good, comfortable place to spend at least half a day working before I can check out my new home.
The same rule applies when I need to check out in the morning and have a flight or ferry in the evening. I just go to a coworking place and have an excellent time without the stress that my stuff might occupy someone's place in a busy cafe.
What's worth noting about those spots is that their cost is usually similar regardless of location. In general, a cheap country offers similar prices as expensive ones.
It's a great solution when traveling to a big city where finding a workable apartment/room in a good location (at a reasonable price) could be difficult.
Here is what I think about cafes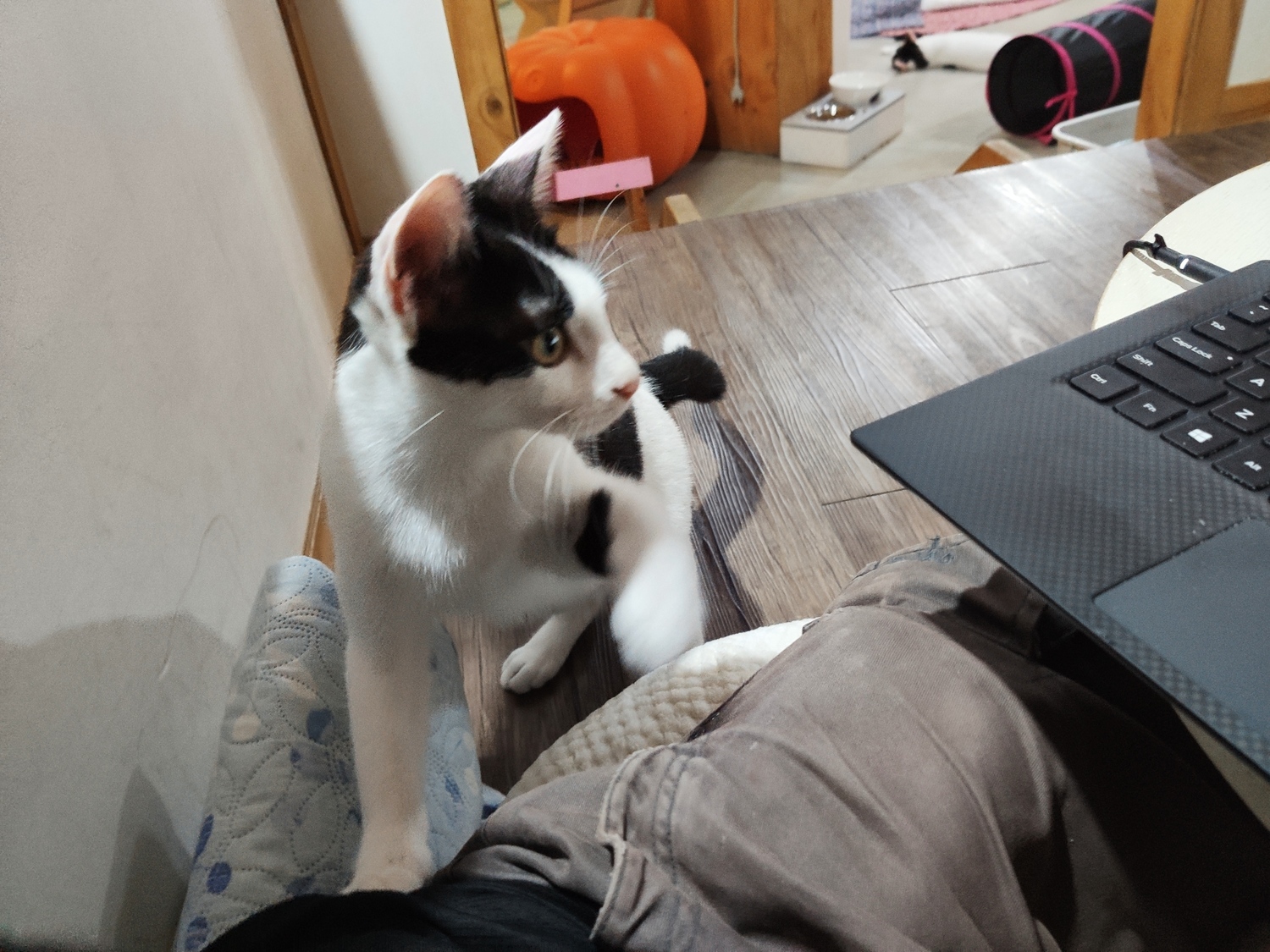 Just look at this Korean cat cafe. Sounds perfect, right? 😀
Or imagine a morning visit to a French cafe. A toast accompanied by relaxing guitar music, a sip of a fresh espresso, and work in a stressless environment. Later in the day, a quick switch to a different place for lunch, and maybe one more in the afternoon.
That could work, but it's not that trivial.
It requires a general check of work-friendly places. Battery life might be a huge factor, but there's more.
Places tend to get crowded around certain hours.
What seemed to be a peaceful hideout in the morning could turn into a busy and noisy marketplace within an hour!
People entering and (unsuccessfully) looking for a free table, and staff continually asking about new orders can be quite stressful. At some point, you will want to free the table for someone who will make better use of it.
The hint here is to learn which place is right for you. Either by trying as many of them as possible or doing research ahead. Alternatively, just visit them during off-peak hours.
Some tourist attractions are remote-work hidden gems
Tourist attractions generally don't seem like workable places at all.
Big crowd, noise, lack of space is not something that I'd like to have as my work background.
But not every place is like Colosseum or Taj Mahal.
Some indoor tourist spots have excellent amenities other than food/cafe places that could serve as workspaces.
In developed countries, places like design/contemporary art museums, galleries, view towers, or some typical tourist attractions often have areas that are either dedicated or could be used (and often are) to work/study (mostly for free).
Good life examples of such locations are:
one of Tokyo view towers (Roppongi) with beautiful workable space and perfect view
Dongdaemun Design Plaza in Seoul.
Transportation may not sound like a workplace but here are some tips
I think I tried all of them. Buses, cars, planes, trains, and ferries (ordered from least to most preferable).
Buses and cars are terrible. Too much motion, little space, worst environment to work.
Trains (when provided with table), ferries (if it's not too wavy), and sometimes planes can be decent.
Long travel, no rapid position changes, enough space can serve well. Not a perfect environment, hard to be 100% efficient, but feasible and can quickly fill the time of extended travel.
Airports and train stations are like busy cafes and restaurants. Unfriendly and require looking for the least imperfect spot, often unsuccessfully.
With one exception!
Airport lounges are ideal spots.
I'd say their quality level is similar to coworking spaces. Peaceful environment, comfortable conditions with unlimited food and drinks. It's not free, but there are plenty of programs, cards, and passes that provide (even unlimited) access to such places for a yearly fee.
Rural areas, remote locations, small islands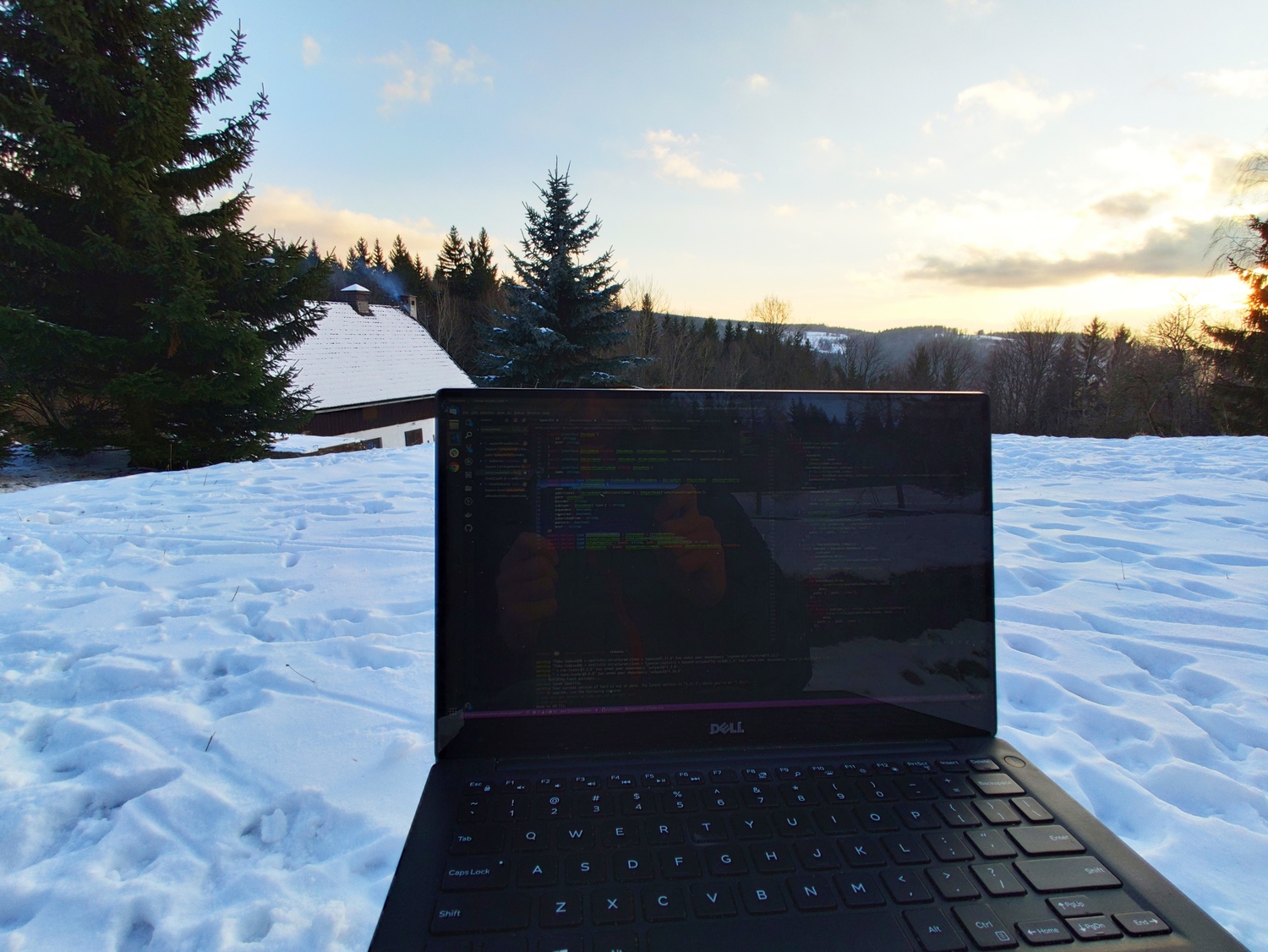 What could be better than setting for a while in a small mountain cottage or a beach house on some small remote island and do work from there?
That's what I sometimes try to achieve, and although it gives me all those natural experiences, it may come with some barriers that might be hard to overcome.
It all depends on the place, some countries are more developed, and even very remote locations could provide decent internet connection and stable power supply, but many of them don't.
Terrible network bandwidth and power cuts happen regularly, and there's no right solution to that.
Checking destination ahead is a must when going to less developed areas, otherwise remote work could become offline work or even paperwork at times.
Lightweight laptop enables to work from weird spots
As I'm constantly traveling, I sometimes visit places that are bit remote, off-track, or sometimes considered extreme.
I usually have my laptop with me. It's light, doesn't take much space, fits in my backpack, or a sack attached to the bike, but it's always there.
Because of that, I sometimes try to do "something" in unusual spots.
Working from a tent on a desert or while hiking in the mountains might sound neat, but it's not that good in terms of efficiency.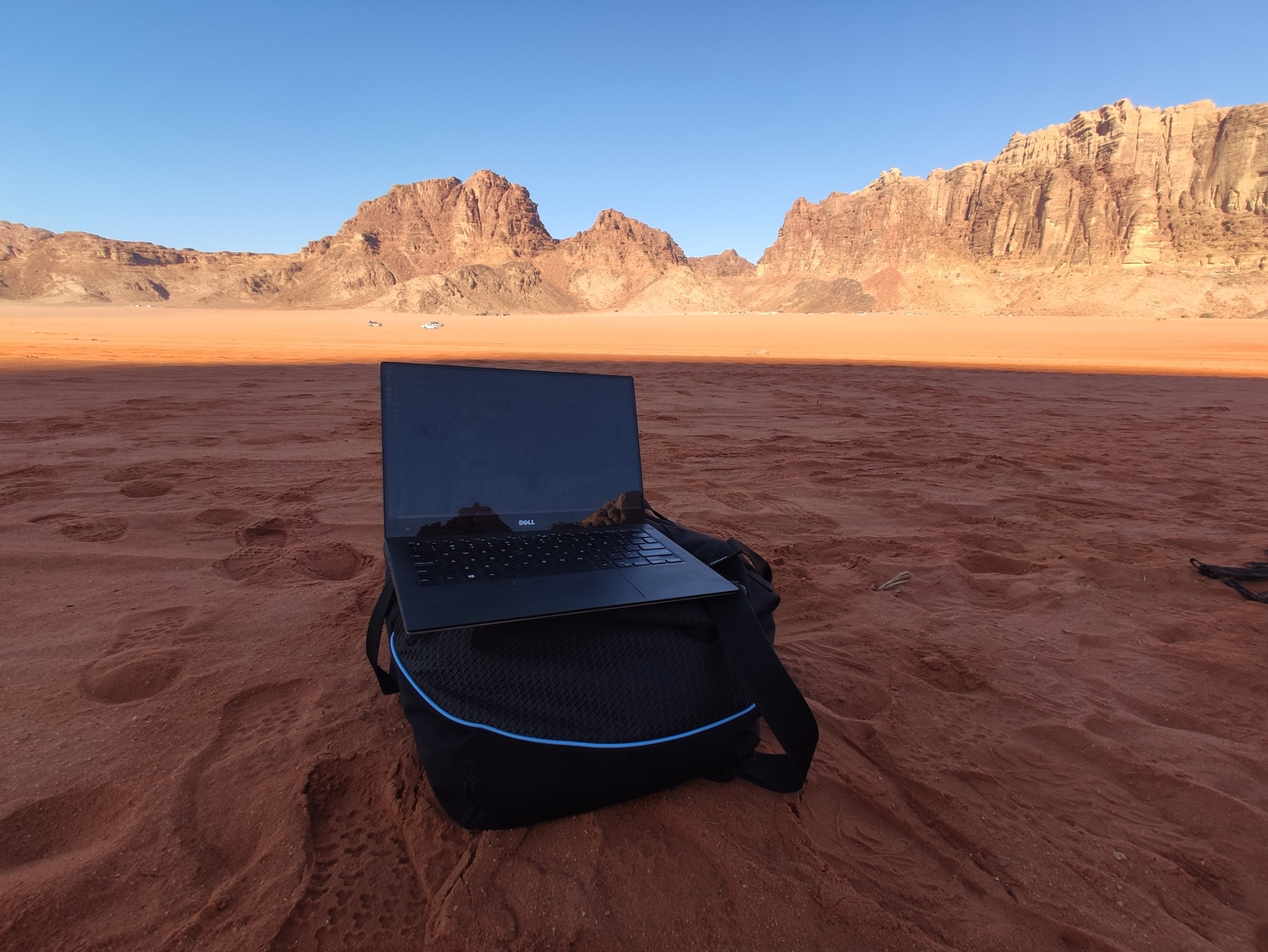 It's okay for quick tasks, checking messages, or adding comments but many distractions, unsupportive weather, and lack of electricity and internet make it quite tricky.
And of course, it's perfect for cool pictures 🙂
Remote work gives you freedom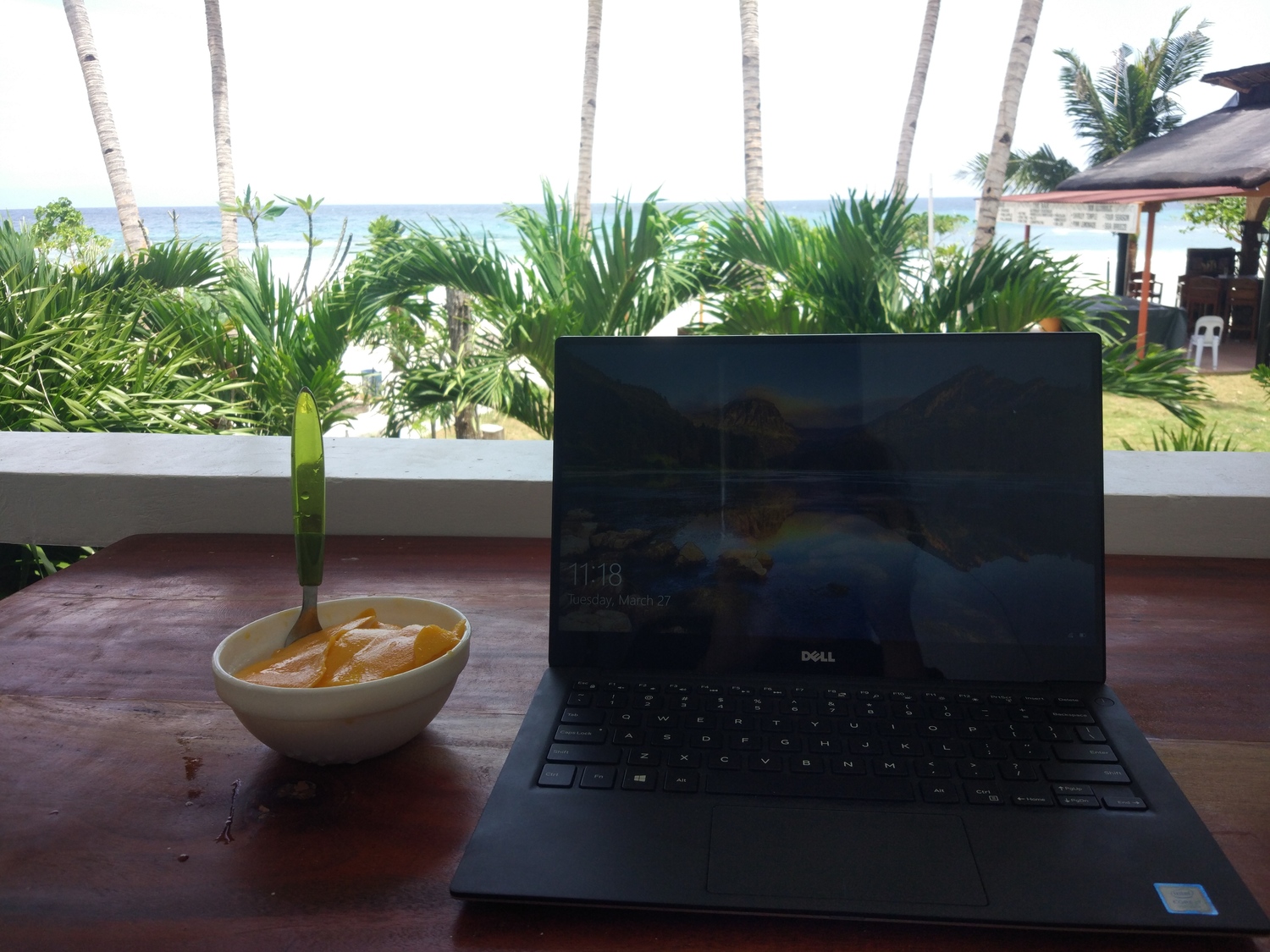 There are uncountable spots out there in every town/location/country that could be used for remote work.
With many good sides and as many disadvantages, everyone can find something suitable.
It may require some research and preparation, but after all, that's the part of traveling, and that's what makes it interesting.
Despite all those possibilities and fancy places that could be worked, the fact is that most of the time remote work is done from home.
Or a hotel room, rented apartment, condo unit, whichever.
That's usually the most comfortable and convenient place to have things done.
For some time, of course, until it gets boring.
Then it's time for a change. Time to use some of the freedom that remote work comes with.
Michael Miąskowski & His First Year
I've been working remotely only for a few months now, and it is the exact amount of time I spent in IT.
My view on remote working is a little different. The fact that I still learn the craft motivates me to places that allow a bit more focus.
Here are some conclusions I drew along the way.
Know what you want
It means you need to think what you want to achieve in a day – consider whether you have light tasks to do or something that requires a lot of focus.
The above will determine the place of your choice, for example:
coffee shops are great for 2-3-hour intervals of straightforward tasks,
public libraries will give you a better opportunity to think (and often have better desks). However, you won't be able to speak out loud, so this is only good when you don't have any calls planned.
Let's say you have your daily tasks in front of you. Here are my places of choice, with a short description of what they're best for.
Coworking offices
These are probably the most versatile kind of working space you can choose.
You will get:
a comfortable desk and chair,
office supplies
and a lot of the times, access to the kitchen.
It is also great for networking, as probably most of the people working there will be freelancers or starting companies.
If you look more for the kind of place to which you will go every day, coworking spaces are for you.
And if you want a little more freedom of switching places every day, you can always buy a flexible subscription instead of a monthly one.
Business centers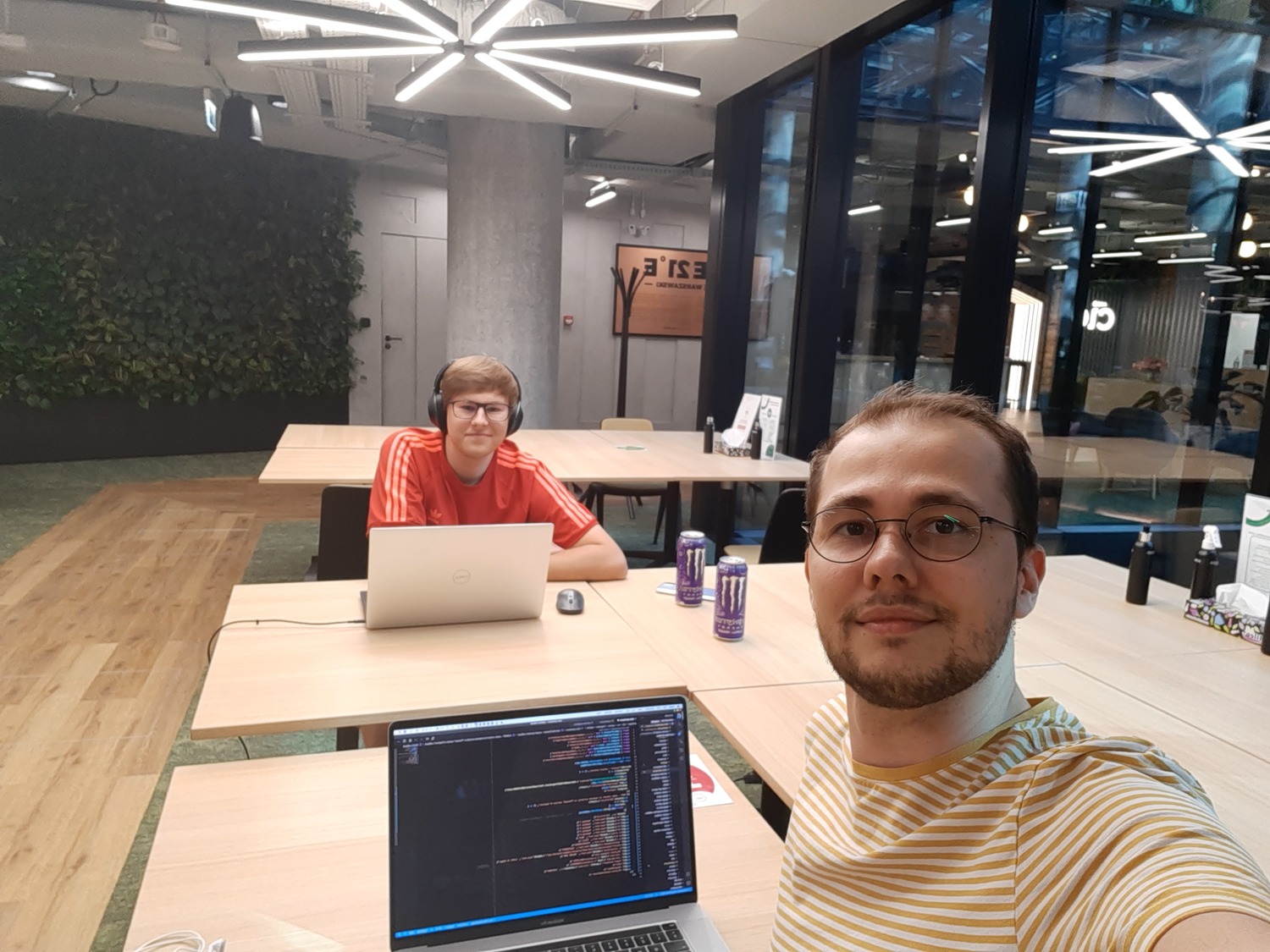 A lot of these places have great lobbies, often with comfortable chairs or/and coffee shops.
The best idea would be to look for the ones that support start-up/small businesses (business incubators, entrepreneurship integrators).
If you are in Warsaw two examples are:
I go to the second one a lot.
Like coworking spaces, these give you excellent opportunities to meet new people.
Parks, forests, nature…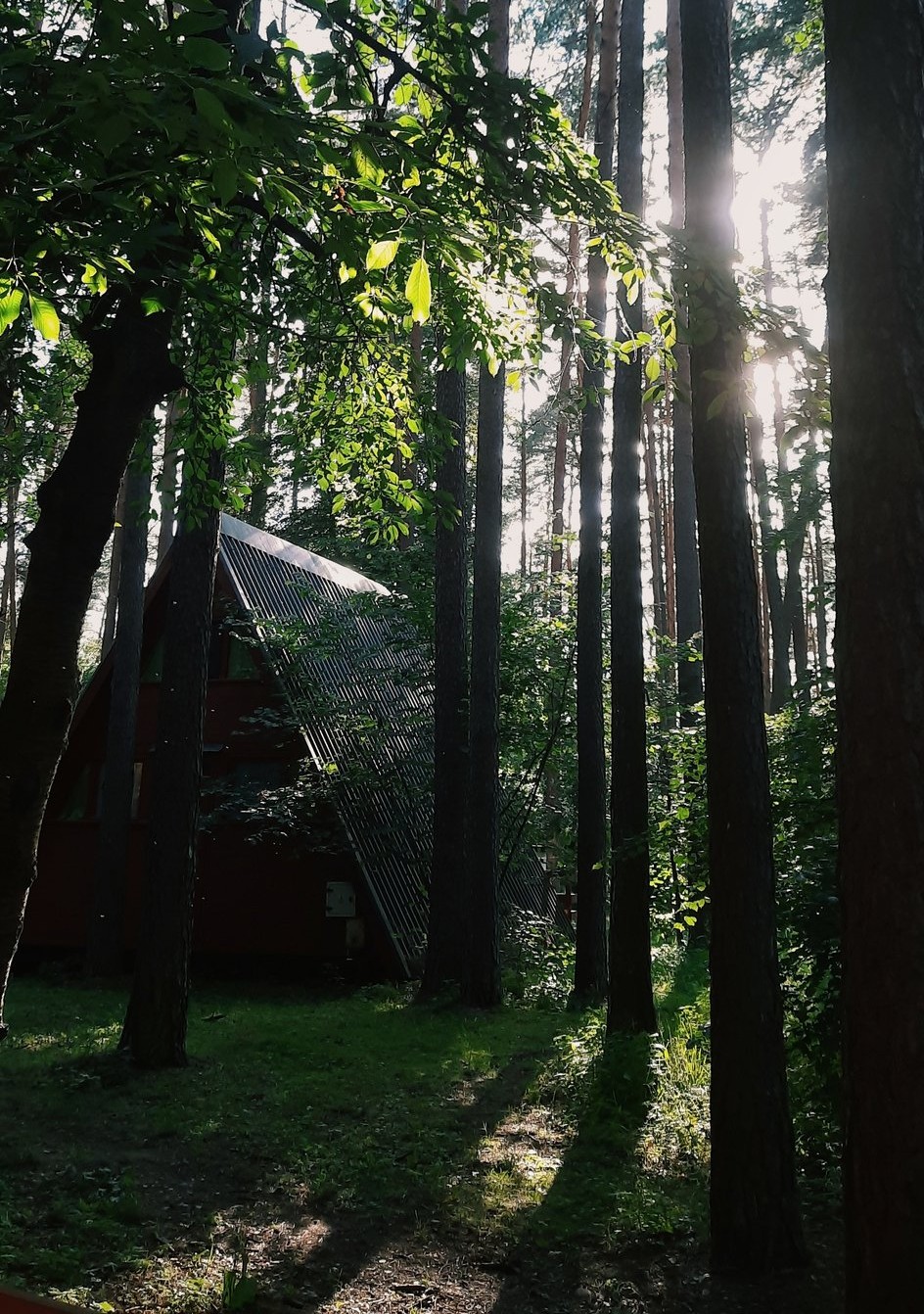 Working outside is fantastic.
Two things to remember when doing that: a comfortable bench/hammock/sunbed/thingofyourchoice, and some shade if you are working on a sunny day.
The best part: when you want to take a break and walk to a cool spot – you are already there!
It is best for short intervals unless you bring a decent power bank with you.
Renting a small hut in a forest is also a way to go – although you might encounter some internet signal issues.
Chris Miąskowski & 7 Years Remote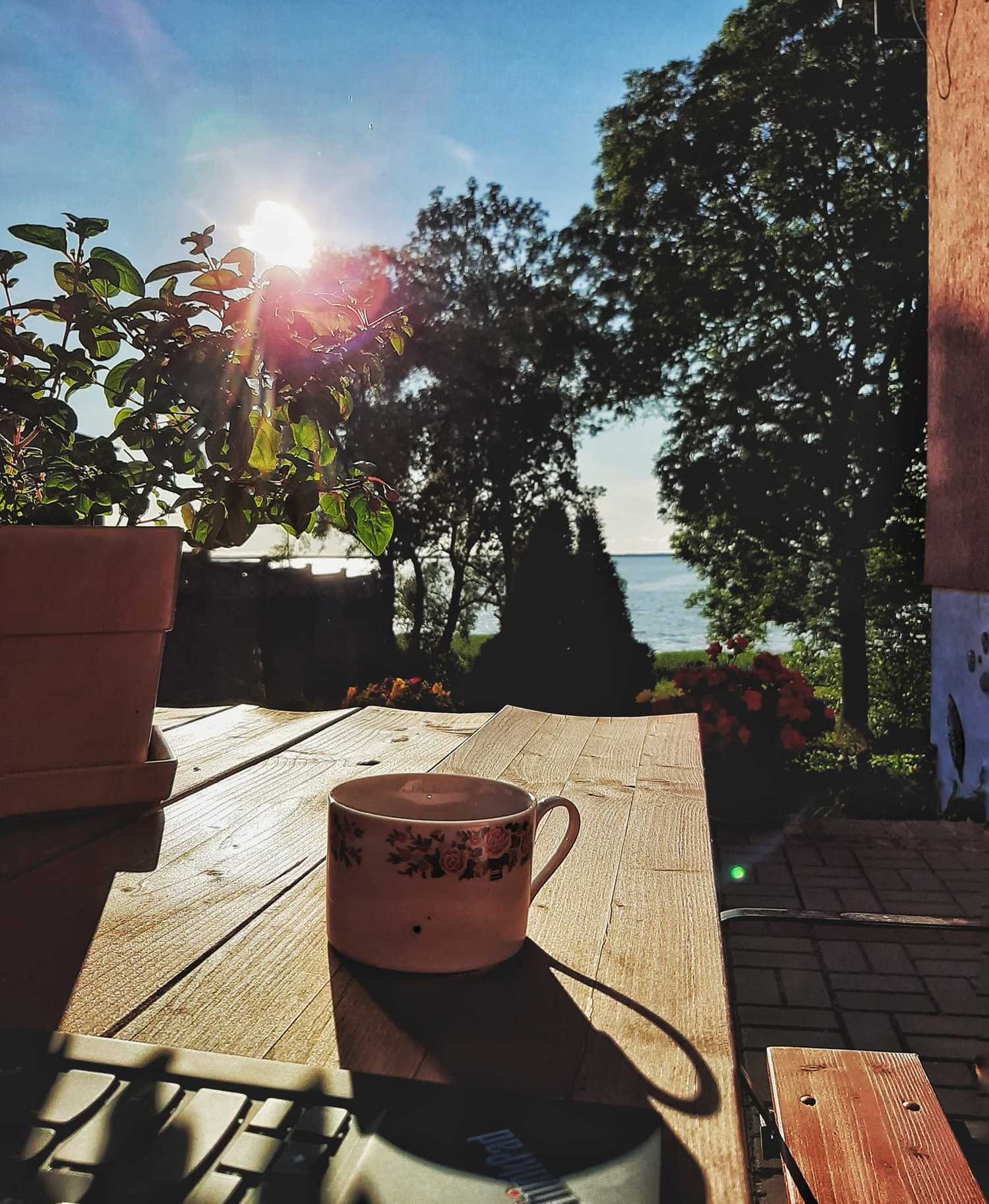 Having worked seven years remotely, I found that having a decent home office + coworking spot works best.
However, when traveling and choosing the best place, here is my opinionated list.
Cafes? Mind your back!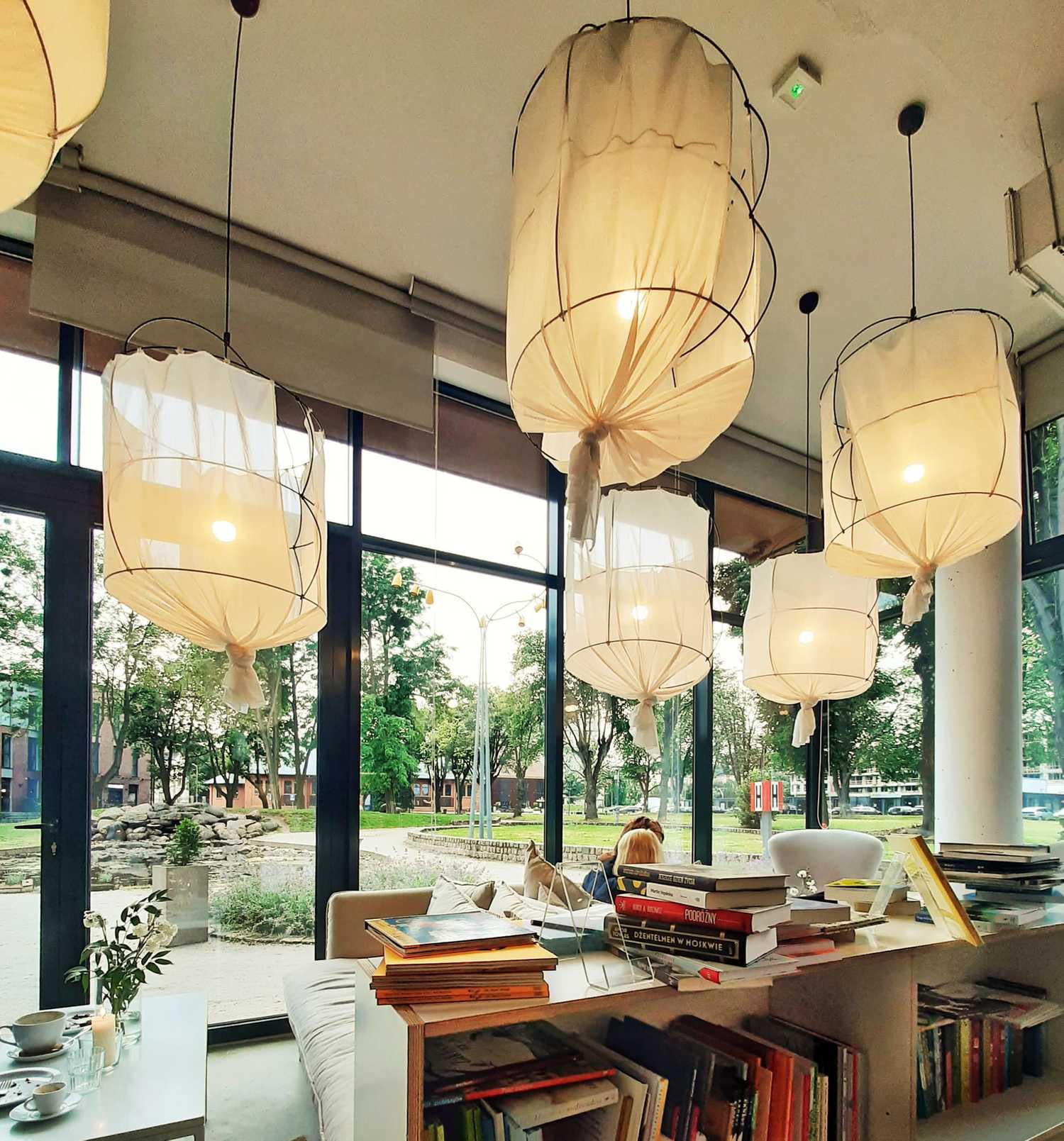 Although some coffee shops have fantastic working conditions (Sztuka Wyboru), most of them are not designed for work (hello, Captain Obvious ;)).
Even working several days in a row in a non-ergonomic environment can be bad for your health.
"Knock, knock!"

"Who's there?"

"The Back Pain!"
On the other hand, I like the white-noise chatter in the background. It actually makes me productive and energized.
If you are an extravert, then merely surrounding yourself with people can work magic for your productivity!
I'd say it's worth trying from time to time but not something I'd recommend doing every day.
Beaches are amazing for a "horizontal" work 🙂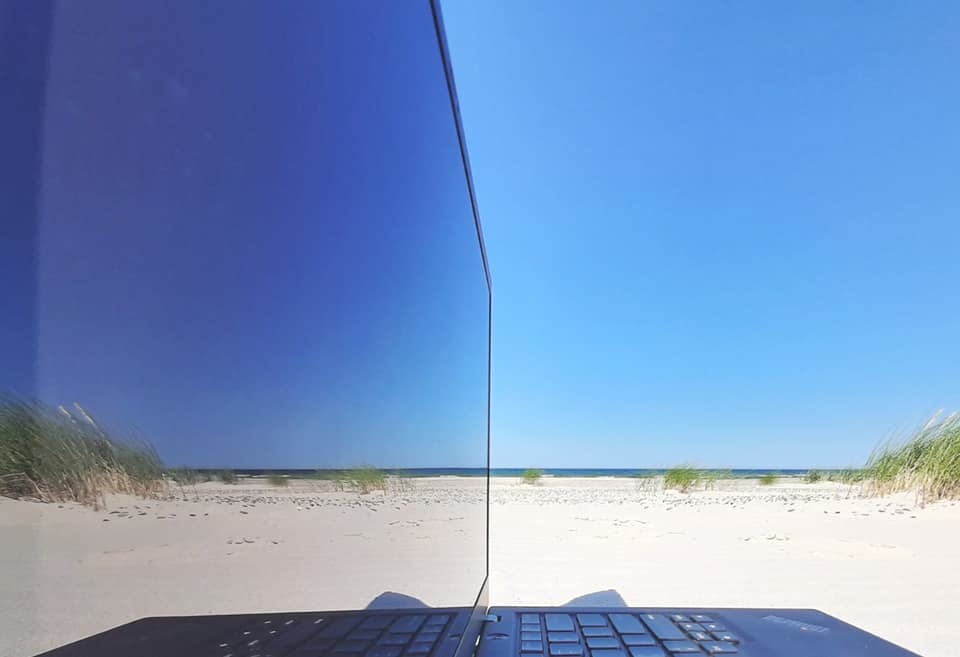 I have mixed feelings about it.
It's not suitable for the "hands-on" work. I had a hard time achieving the same productivity with programming as usual.
I can't imagine doing code on a beach for more than 1-2 hours.
Sand gets everywhere
Sun reflections on the monitor are super distracting
There is nothing to lean on
So what? Am I a beach hater?
Not at all. I think they are great for what there were "designed" to.
Lying down 🙂
I love to do creative thinking on a beach. Lying flat on the sand and listening to the sound of the sea is very calming.
I find entering a peaceful state of mind very stimulating for visionary thoughts.
My best ideas come to me when I'm in a semi-meditative state.
I could almost compare that to "The Shower Effect" aka "Eureka Moment".
A lot of the time, getting into a relaxed state, and forgetting about a problem helps solve it. Somehow, the brain does its job in the background.
Concluding, beaches are an option for creative thinking but not for a diligent work.
House of Culture
Those public spaces can be an interesting option – especially when visiting a city for a day or two.
On one of my short stays in Warsaw, I spent several hours working in Dom Kultury Sluzew.
it's public (free)
they have a cafe/bar
there is a particular area with desks and chairs
amazing architecture/design (I found it inspiring and stimulating for creative work)
great outdoors space
goats!
When considering a house of culture as an option please be mindful not to abuse those places.
It's not a "free office" but a public space. I'd recommend always making sure you're not disturbing anyone, respecting their rules, and – if possible – contribute somehow (even with something as simple as buying a cake from their cafe).
Small Co-working Spaces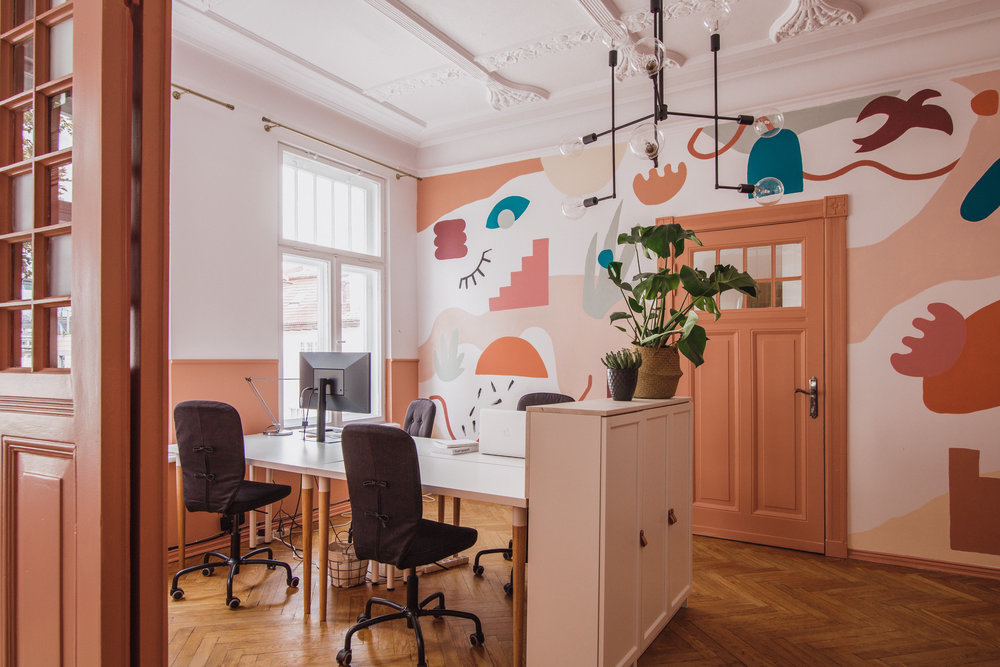 That place on the photo is a coworking space in Gdańsk of my choice. It's a small, cameral place with incredible people, beautiful interiors, and two energetic founders!
There are several reasons to work from a coworking space:
People: you get a chance to meet and hang out with folks from different industries and with different skillsets (writers, artists, engineers, managers).
Comfort: let's face it, a lot of us don't have the luxury to dedicate a separate office space at home.
Work/Life Balance: going to the office keeps your life and work separated so that you can truly focus on what you need to achieve.
Energy & Productivity: depending on your personality, you may feel much more motivated to work when surrounded by people.
Events: most coworking places will likely offer networking events, organize conferences and meetups. It's an opportunity to learn and network.
Larger spaces will usually have an option to rent a dedicated, more traditional office space as you grow your business.
What's great about the coworking space I rent is that it's available 24/h. Knowing that I have an option to go there any time I want is very helpful.
Renting a coworking space might sound contradictory to remote work for some.
But that's not the case because it's you who decides whether to go to that office or not today.
It's there for you when you need it 🙂
Last but not least: home sweet home
Let's admit it.
Not everyone likes working from deserts/forests/tents/libraries.
Working from a tent on Lofoten Islands sounds (and is) fun.
But are we all digital nomads that switch place every day?
Sometimes, the best spot to pick for remote work is a room in your house.
I find those hints useful when setting up a home office:
have a dedicated room/space/corner for work
take care of ergonomics
personalize your space
set work/life rules
get on the same page with other inmates about your work hours
Summary
Four people, four opinions.
You can certainly see some commonalities here, but you can also see how it all depends on your personality.
Note that we all seek contact with people one way or another. Remote work doesn't mean to be isolated. It means you are free to make a choice.
I genuinely believe that remote work is something that will reorganize our society.
It can impact:
Urban planning: bigger cities wouldn't have to be so densely inhabited
Societies/tribes: we could create small and self-sustained societies in smaller towns and villages
Environment: we wouldn't have to commute that much reducing the impact on the environment
Transportation: we could travel shorter distances, maybe we could use bikes more often?
Equal opportunities: why do people from remote locations need to move from their town to a large city or another country to find a job? The more remote work available, the more open the job market. There are so many skilled people that can't find a job these days. Similarly, so many companies try to find qualified people and fail.
Economy: money can flow from rich countries to developing ones and helps to distribute wealth.
We all would like to thank you so much for reading this article!
If you like our stories, please share it with your friends and spread the remote work passion!
Take care, explore the world, and stay curious!